Memories of Jeff Ruland Haunt Me
In 1986, the Sixers were coming off of a 54 - 28 season. We had Dr. J. Moses Malone and Charles Barkley. We were poised to make a run at the championship. For whatever reason, with the #1 pick in the draft, we decided to roll the dice instead of drafting talented North Carolina center Brad Daugherty. We traded the pick for Roy Hinson and then traded Moses Malone for Jeff Ruland. Jeff Ruland played about five games for the Sixers before leaving the game with serious knee injuries. Roy Hinson was released or traded after about a season and a half. Brad Daugherty had a very respectable career but was cursed to be playing in the same era as Michael Jordan. Many other stars, including Patrick Ewing and Mark Price, shared the same fate.
The recent acquisition of Andrew Bynum makes me have the feeling of deja vu. We gave up Andre Iguadala and Lou Williams from a team that went to the Eastern Conference semifinals last year. Our first three games this season reflect our lack of a defensive stopper. Also evident, it the fact that Andrew Bynum's knees could present a serious problem for our immediate need of a defensive stopper. The Knicks blew us out two games i a row and dominated the middle each time. We didn't defend the perimeter and we turned the ball over too many times. When Andrew Bynum refused to lay because he had a little bit of pain in his knee, I really felt a sense of dread...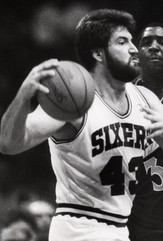 No player in the NBA is pain free. No player that expects a max contract should expect to not have to work through some pain. Andrew Bynum received blood platelet therapy during the off season. It was the same type of therapy that has Kobe Bryant up and running around like his old self. What happened to Andrew? Dwight Howard now occupies the center position that Bynum formerly held for the Lakers. Did they know something the Sixers didn't? Andrew Bynum was an All Star last year and was in the upper echelon of big men in the NBA. How is it that he didn't begin his rehab process right after the playoff loss?
Other changes have taken place in the NBA. James Harden was traded from the Thunder in a major shake up to the NBA finalists last year. Danny Granger, the leading scorer for the Indiana Pacers, will miss three months due to a lingering knee injury. Brandon Roy was a rising star for the Trail Blazers, retired after a knee injury, and recently came back for the Timberwolves. The early reports are that he is struggling mightily. Ricky Rubio is still sidelined with a knee injury for the T-Wolves. We wouldn't be the only team inconvenienced by a major injury to a star player but our experience with Jeff Ruland makes me think that our big men are jinxed. Kwame Brown, a former #1 pick who exposed Michael Jordan a a terrible GM, played about eight minutes in his only game played for the Sixers this season before leaving early. Where are good big men when you need them?