Why Do Popes Have to Be So Old?
Although I am no longer Catholic, I watched with anticipation as the Cardinals made their recent selection of Pope Francis. I was happy that they made a selection but at the same time I was sad that Pope Francis is 76 years old. Pope Benedict made history by becoming the first Pope to voluntarily step down from the Papacy in almost 900 years. He was 77 when he began his reign and I though he looked kind of frail at the time. Pope Francis looks strong and hearty for 76 but it is well past retirement age for most working adults.
I am surprised that the Catholic Church is the largest organized religion in the world. I thought for sure it would have been Islam. It seems like Muslims and their faithful are growing at a rapid rate. I am Baptist which is considered a Protestant religion by the Catholic Church but nonetheless, we all believe in Jesus Christ. The new Pope will have challenges in leading his flock. The church is becoming increasingly Hispanic and more liberal. How long can a ban against gay marriage last? I look at the leaders in my church and ask why they cannot recognize that gay people are children of God also.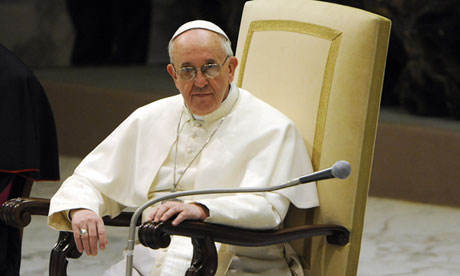 My hope is that the current generation of Priests respect people's children and not abuse their privilege of providing spiritual guidance. The Los Angeles diocese just settled a lawsuit for $10 million to children who were abused by the same priest. This priest was moved from parish to parish with the blessing of a Cardinal who recently was part of the election process for Pope Francis. In Philadelphia, Cardinal Bevilacqua knew more than he admitted at first with regards to abusive priests. It is a challenge that I hope Pope Francis will face head on.
I like his mantra of caring for the poor. He chose the name Francis after St. Francis of Assisi. I found some facts on Wikipedia that were very interesting:
St. Francis of Assisi
(
Italian
:
San Francesco d'Assisi
, baptized Giovanni, born
Francesco di Pietro di Bernardone
;
[

2

]
1181/1182 – October 3, 1226)
[

3

]
was an
Italian
Catholic
friar
and
preacher
. He founded the men's
Franciscan
Order, the women's
Order of St. Clare
, and the
Third Order of Saint Francis
for men and women not able to live the lives of itinerant preachers followed by the early members of the Order of Friars Minor or the monastic lives of the
Poor Clares
.
[

4

]
Though he was never
ordained
to the
Catholic priesthood
, Francis is one of the most venerated religious figures in history.
[

4

]
St. Francis of Assisi was an influential leader during his brief life and the fact that he never became a Catholic priest but became a Saint speaks to his spiritual potency. Pope Francis has a huge task in dealing with the issues of social and economic inequality in today's society. I wish him the best in his term.
There seems to be come people who want to denounce the Pope for some political intrigue that occurred in Argentina during his earlier years. I would say that he was only a priest and could not change the tenor of a military regime by himself. As it was stated in a homily for a mass I attended this morning, "Let he/she who is blameless among us throw the first stone. This sermon came from the context of a woman who was to be stoned for adultery. None of us are perfect, even priests and Cardinals. Good Luck Pope Francis on your journey as the new Pope. Can the Cardinals think about someone in their sixties, or God forbid, in their fifties, during the next papal conclave.